*
Cue sound for drumroll please*

Ladies and gentlemen, my closet is done! Well…let me rephrase that…the closets for the hanging items are done. They've been built, painted and decked out with all my grubby belongings. And I won't encourage you to examine them too closely because I got lazy after slopping on 20 coats of paint on each surface for the first one and a half closets…so the one that's closest by the window is still grainy and rough…

Hey, not my fault that my husband didn't buy quality wood and that he didn't sand it down first, right?

At least, it's in the corner so you can't really see how bad it is. But so what if it took double the expense, and 4 times longer to build it, and the results are not as nice as those custom ones? I'm just glad that it's done and it's still 2007! Hahahahahahhahaa (Sorry, hunny!!)
Isn't it pretty?

I

(yes,

"I"

as in me with my own two bare hands with absolutely NO help from my significant other whatsoever...Just wanted to make sure that we are on the same page here....) painted the room a light blue - I envisioned it to be a calm light blue, but the color came out more like Baby Boy blue than anything...That first kid of mine better have a little weiner because there's no way that I'm going to repaint it!!!
And I was going to say, isn't it such a difference from what it was? Then I realized that I never did get around posting all my carefully complied pictures of the inside of the house in the last post!

DUH!

So sorry....See what getting old does to your brain?? It's a wonder that I remember to lock the door before I leave the house every morning!
So here they are

(

please

bear in mind that these were taken shortly after we moved in, hence all the crap littering the place - not like I'm implying that it's much better right now...but you know...)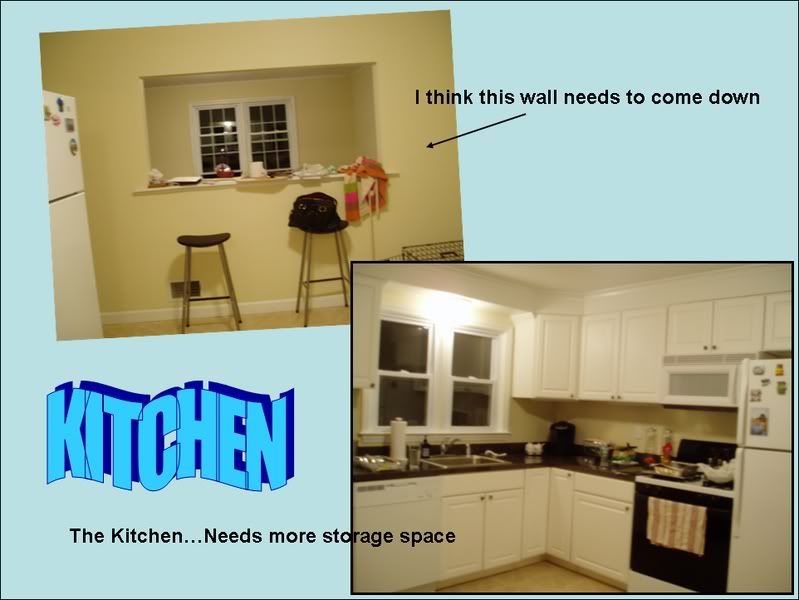 We'd pretty much only paid (some) attention to the study and the closet...What to do? I think I must have hit my head hard when I was young, because I have a screwed up sense of "items worth shopping" for...I have no issues spending $$ on clothes or anything fashion related, but when you tell me I have to spend $80 on a shelf for the study, and I'll hem and haw about it for at least a month before taking the plunge! So much so that when my vanity went on sale from $400 to $150, I took so long to decide to get it that the price went back to the

original

price.

GRrrrrrrrr
JC Penney Mirrored Vanity Table
Ok, your two-second tour of what we've been up to these past few weeks (all smooshed together because we seriously do NOT live interesting lives....Any longer and you'll probably be falling asleep)

Week of 8/2 to 8/5
MY BIRTHDAY!!!!
Although I don't really appreciate the fact that I'm getting older (and therefore, my bones are starting to creak more, and my hair's starting to fall out), I must say that it was quite a fun day!
Work colleagues made a big deal out of it (it was a little embarassing, actually, since I'm really not the type to should out "LOOK AT ME"...) but it was definitely fun to be fussed on.
I was wearing a Libertine for Target dress
And yes, I had TWO cakes...John went a little crazy there...I think it's because he thinks he's deprived of sweets and he's going to milk it as much as possible by saying "But hunny, these are for YOU" as he's gorging himself on the cakes.
Weekend of 8/11 – 8/12
We went down to Maryland for our last visit to Tommy and Margot's before they ship out to Australia. Their house is almost all packed up, and John benefited with more gardening stuff.
Ethan is a big boy now! And the amazing thing is that he took to us quite readily and he got along famously with Buddy, who really is THE perfect size dog for little ones…It was adorable seeing them playing and running along together. Ethan would come bumpity-bump-bump down the stairs to the basement where we were residing just to follow Buddy (either that, or the egotistical side of me will say that it was me he's looking for!
*beams*

)
Weekend of 8/18 – 8/19
Finally, a weekend where we can be alone, and do our mundane, normal, run-of-the-mill stuff which I love…Just the two of us (I'm a tad possessive, if you can't tell). Absolutely loved it. Went to the park by the shoreline that's less than a mile from our house...That place is really hopping! All the oldies would come out and play...and when I say play, I really mean play...We have free concerts down there and one night, there was a Rod Stewart impressionist there, and this old man (complete with cane) was doing the boogie...Not a minute ago, he was shuffling around with his cane, and the next he's twisting and waving his stick around like he's Elvis! I think I almost died laughing!
Ok, until next time, else if I keep waiting to post this, it'd never get anywhere!