Sorry, it's been awhile since the last time this was updated….But since I was back home HOME, I was too busy enjoying myself to sit in front of the computer. (I save that for my boring life over in the States…*sigh*) Plus, do you have any idea how

sloooooow

the internet connection has been back in KL since the earthquake in Taiwan???

I have a ton of pictures taking up space in any computer I can land my hands on (namely, my work computer, home laptop & John's work laptop) so I figured it was time for me to clean up my mess (One of my New Year's resolution…be timely in my responses/TQ cards/correspondences)

So….we were back in NYC again the weekend after we left Buddy over at Mary Kay's house…Figured that we might as well take advantage of our curfew-less weekend (not that we stayed out that late…we're on "old people's" time schedule, remember?)

John wanted to test out his new handheld GPS thingamajig that he's been begging and begging and begging to have (and I finally caved because I got so tired of hearing about it...Hmm...I wonder where he learnt THAT trick from??) and since one of his arguments for getting that darn thing was "Think about it, honey…When we are in NYC, we can find our way to every shop that you want!" – like THAT ever happened….the best I got was speedwalking past the entrance of the store that I want to go in)

So, there we were, walking along 5th Avenue, trying to find the Museum of Natural History (we got excited seeing the preview for "Night At The Museum" (starring Ben Stiller) and wanted to get a first hand feel of it)…We finally stopped at Central Park where John was trying in vain to get the Satellites God to align with his toy, and I was…entertaining myself, people watching and smelling the horse poop that permeates the air around that area (A horse drawn carriage is a VERY romantic idea…on paper…But when you're actually there, seriously, how lovey-dovey can you get when all you smell is

eau de poopy

?? Bleh…)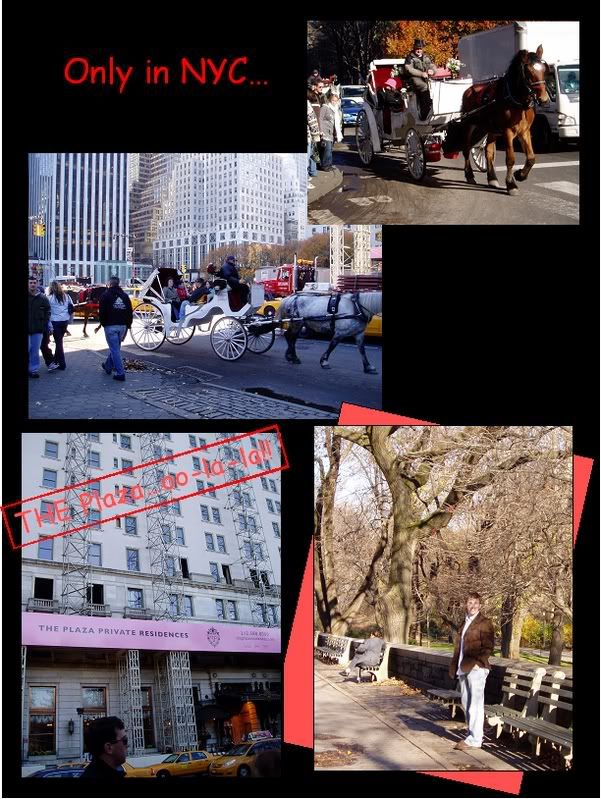 Finally, I got tired and took out MY toy (Cellphone/PDA with internet access) and found the blo*dy address to the museum…It took me 5 seconds. Makes me wonder why I was standing around for 5 minutes waiting for my husband to (unsuccessfully) find the way to our destination.
For those who think that they will be stuck in a similar predicament, take note:
American Museum of Natural History
+ Add: 79th Street and Central Park West
+ Hours: Sun-Thurs 10am - 5.45pm,
Fri & Sat 10am - 8.45pm
We did stumble upon Tavern on the Green though...It was GORGEOUS!!! We tried to see if we could squeeze in there for a lunch break, but alas, it was overflowing with people with the same idea in their minds…Next time, we'll do better. This is definitely on my to-do list before we leave the New England area for good.

At least we got the chance to ogle at the people who had the foresight to make a reservation…hehehe…(the building had clear glass walls in the back area of the restaurant, where the topiary garden was located.)

Not that my outfit was that interesting, but since I'm bored, and I have a captive audience, I'm wearing: Juicy Couture Reversible Fur Hoodie in Ziggy, Arden B. pink L/S top, True Religon Joey jeans, Chanel Cambon tote, Uggs in Chocolate
That location must be magical, because the GPS unit finally decided to work, and we were on our merry way to the museum…Which, by the way, I have no idea why we got so excited about it anyway, because the displays/artifacts there were average at best…The most interesting event was probably watching the guys at the cafeteria try to sweep a cockroach into a dustpan (seriously, how many guys does it take? And it was only a baby roach...)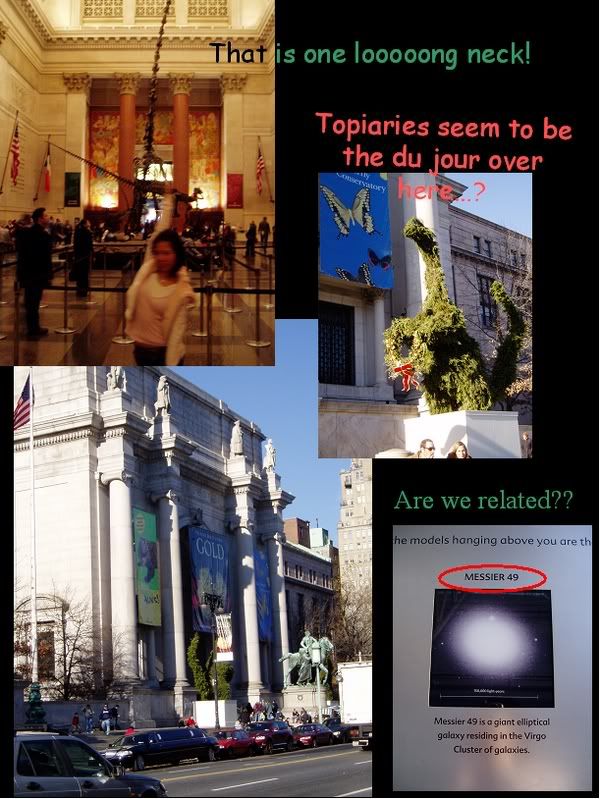 And of course, since it was close to the Christmas season:
THE
tree is UP! ("
What tree", you ask?? Where have you been all your life? Don't you watch movies??? I'm only talking about the legendary Christmas tree that's been dragged out of its 50+ year old address in some forest only so it can be decked out in ornaments and twinkle lights by the truckloads for 3 weeks, ogled at by millions of people and then, when Christmas is over, it's moved to a dump site where it's left to die – what a life
)
And don't let the twinkle lights fool you. In broad daylight, the tree is as sparse as hair on an old man's head.
Bah, humbug…..Merry Christmas, y'all!!