Ok, I hate baking. Because I'm bad at it. This is the person who used to bake ALL.THE.TIME. in highschool. Perhaps I sucked then too...but at least my testers were a little more lenient, maybe? I don't know. Kiddo is going to have to deal with store-bought treats. Heck, aren't kids discouraged from having too much baked goods anyway?
Cookie Dough Truffles: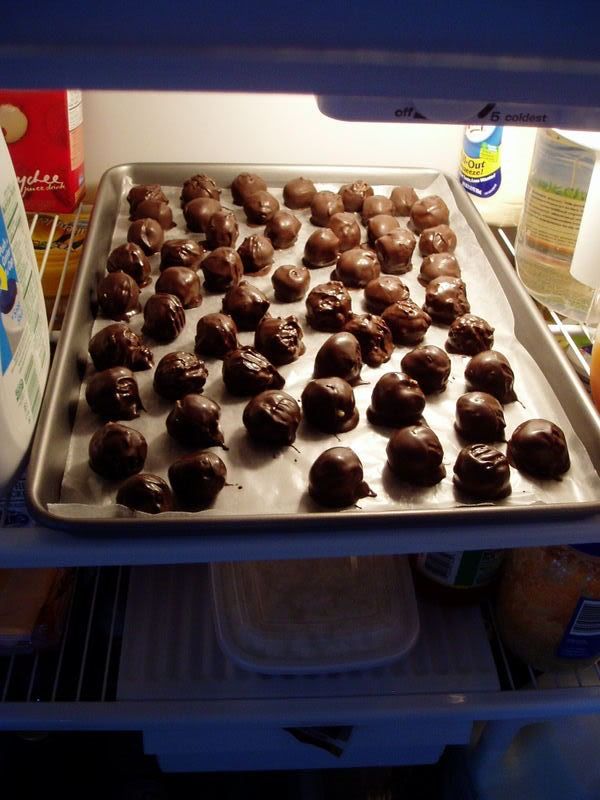 Verdict: Easy to make, but I remembered AFTER I finished making them that I never was a cookie-dough kinda girl...I find it odd that there are people who can lick the batter bowl after making cookies (i.e. my husband) Bleh...
But my husband loves cookie dough, and he said that he liked them...That's good, since they are ALL his. I don't think that the neighbours were a fan either.
So....this is probably going to be a one-time thing.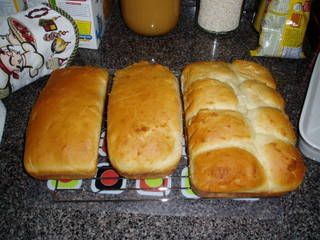 One Hour Bread:
Verdict: I honestly think that I did not mix the dough enough before shaping it....The texture was way too sticky. But since I've already dumped the mixing bowl into the sink and filled it up with water (I know, sometimes being too much of a anal-clean freak will come bite you back in the ass), I wasn't about to go mix it again. It does LOOK nice though. It didn't really taste that bad either....Actually, it hardly tasted of anything. As for the texture, it's a little dense.
I think I should stick with recipes that are written for dummies/first-time bakers.
On another note, my husband is pretty proud of himself. His "garden" bore "fruit".
Isn't he adorable? Although I'm not sure if that will be enough to feed even a baby bunny rabbit, but hey, it's still a carrot!

Can't see it? Don't worry, it's not old age, or your cataracts acting up. Even my camera had difficulty focusing.(hahaha)
Here's an extremely close up view :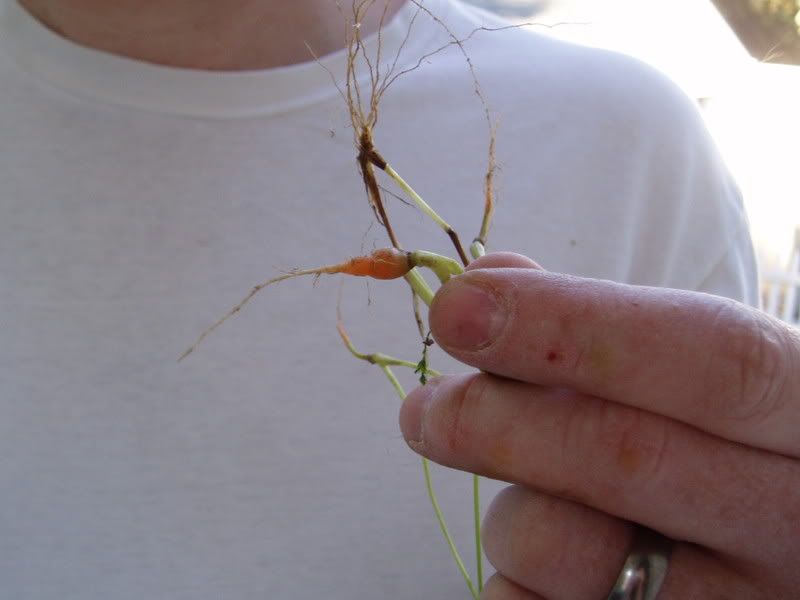 Our flowers in the front yard are doing fantastic as well...Which is somewhat of a miracle, since I don't remember doing a thing to ensure that they survived from last year. Goes to show...sometimes, things are better left alone.