What's happening underneath that bump?
The baby responds as a newborn with its eyes open while awake and closed while sleeping. Your baby knows the sound of your voice, so spend lots of time singing and talking throughout the day. The same lullabies you sing now will calm your baby once he or she is born.S/he is developing immunities to fight mild infection. Those sharp little fingernails are at the ends of the fingertips already, and you might need to clip them during the first few days after birth.
He or she is around 18 inches, and is about five pounds. The skin has turned from red to pink, and all of the organs except for the lungs are fully mature. Movement is restricted even more this week, and baby is curled up tightly in the womb. You should still feel movement frequently, but it will be much more confined. You'll notice every little hiccup or kick now, as the skin of your abdomen is stretched and the baby is pressing against your organs
Happy Halloween!
John's having a ball giving out candy to the neighbourhood kids - BUT, he's also filtering our candy giveaways ---He's hoarding the ones that he likes..So the Reese's peanut butter cups are making their way down his belly instead of out to the kids. Can you believe that??!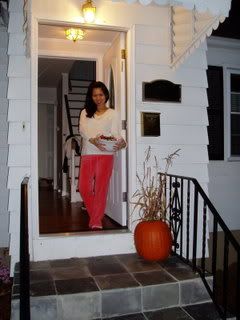 We had dinner recently at this couple's place whom we met during the child prep class, so I ambitiously tried to make dessert. It was either that, or bring a store-bought one, and you should have seen John's face when I suggested that.
So, I turned to my "go-to guru" from the
Good Things Catered
blog, and once again, she did not disappoint. Thanks so much, Katie!! (although my cake definitely didn't turn out as asthetically pleasing as hers, but since I've never iced or decorated a cake before in my life, I cut myself a break. It was delicious, though! Score 1 on the Supermom board!)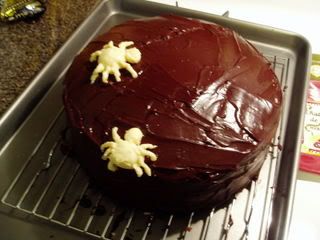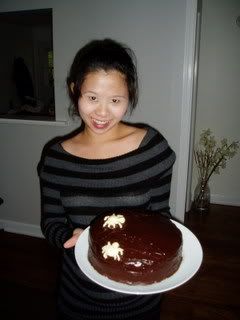 Excuse the pale white face here...(I look like I'm made up to be a ghost!) I'm trying out a new foundation and as you can see, it's not working out for me.
On the baby note, I had another appointment today...I'm 34 weeks and 4 days today, and I gained FOUR POUNDS since my appointment 2 weeks ago! That means I'm 144 lbs now, and have gained a total of 27 lbs. My goal was only 25. Humbug!